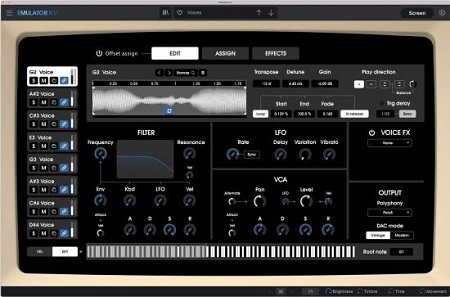 Arturia Emulator II V v1.4.1 (Mac OS X)
MORiA | December, 11 2022 | AU | VST | VST3 | AAX | STANDALONE | 617.6 MB​
Emulator II V Textural sampling ensemble. Emulator II V is the perfect dusty lo-fi sampling toolkit, combining the old-school digital grit that you love with the cutting-edge creative flexibility that you need. Emulator II V is a multitimbral sampling machine that brings E-Mu Systems' seminal digital workhorse back to life in all its nostalgic glory - with a slick modern edge.
Its unique combination of high-fidelity 8-bit sound, warm analog filter, and instantly-recognizable sample library is sure to spark instant creativity, just as the original once did. When you want lo-fi grain, '80s sheen, or a sampling flow that stands out from the crowd, look no further.
Digital goes lo-fi
Part sampler, part synth, Emulator II V combines 8-bit digital crunchiness with warm analog filters for a distinctly lo-fi sound that'll add instant character to any mix.
The sound of the '80s
If you've heard Depeche Mode, New Order, Genesis, John Carpenter, or pretty much anyone from the '80s & '90s, you've heard the Emulator sound - now it's in your hands.
No ordinary emulation
Using our exclusive TAE® technology, every circuit and every function of this classic instrument has been remade in detail to sound & behave just like the original.
The sounds you know
Some of popular music's most iconic sounds came from the original Emulator libraries; Emulator II V combines them with a fresh & dynamic selection of samples for your mixes.
Vintage DAC
A drum loop played first in Modern mode, then with the "Vintage" DAC.
And if you want the samples in your mix to bring a vibe of their own, what better way than to use a sampler straight from the old school? Choose between a modern DAC or a faithful emulation of the original hardware's DAC and let the lo-fi vibes roll...
Synth brain
Instrument first, sampler second. Part of what made the Emulator hardware so popular was the fact that it behaved like a synthesizer, but with the flexibility of using samples - its multitimbrality meant up to 8 samples could be played at once on your keyboard.
Whats new in this version
November, 18 2022 | v1.4.1
No more crashes when clicking on a voice tab in screen view
System Requirements
Mac OS 10.13+
4 GB RAM
4 cores CPU, 3.4 GHz (4.0 GHz Turbo-boost) or M1 CPU
3GB free hard disk space
OpenGL 2.0 compatible GPU
Link Download
​
Download Via UploadGig
Download Via Rapidgator