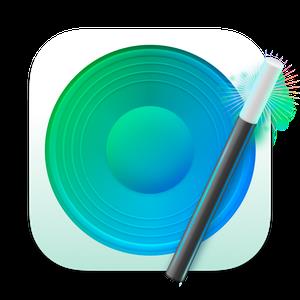 SoundSource 5.3.9 macOS | 25 MB
SoundSource gives you superior sound control on your Mac. Use it to control individual app settings, like volume and output device. Apply an equalizer and other audio effects to any audio. You also have fast access to your Mac's audio device settings and levels, from anywhere. SoundSource gives you truly powerful audio control, all from a globally available menu bar app.
Per-App Volume Control
Adjust volume levels for each of your applications, all in one place. Make one app louder or softer than others, or even mute it entirely.
Per-App Output Redirection
Control exactly where audio plays. Route music from one app to your best speakers, while everything else is heard via your Mac's built-in output.
Per-App Audio Effects
Use the built-in 10-band equalizer and support for Audio Units to sweeten the sound of individual apps.
System Audio Settings
Quickly adjust volume and input levels, balance, and even sample rate for your system's Output, Input, and Sound Effects devices.
System-Wide Audio Effects
Apply effects to sweeten the sound of all audio on your system, with the built-in 10-band equalizer and support for advanced Audio Unit plugins.
Super Volume Keys
HDMI devices, DisplayPort audio outputs, and more fail to support the volume keys found on Mac keyboards. SoundSource makes those keys work with any outputs you have.
Menu Bar Access
SoundSource lives in your menu bar, for one-click access to all your audio controls. You can also bring it up with a configurable global keyboard shortcut.
Floating Access
Making frequent adjustments? Pin SoundSource's main window, and it will float on your screen for instant access.
Headphone EQ
The new Headphone EQ effect provides the very best sound from thousands of different models of headphones.
Magic Boost 2
The new Magic Boost 2 does even more to provide rich, full sound from even the tiniest speakers.
Compact View
SoundSource's main window is streamlined, but to truly minimize how much space it uses, the Compact view has you covered.
Menu Bar Meters
Add optional meters for your output device, input device, and/or active applications, so you can see and control audio even more easily.
What's new
Initial MacOS 11 (Big Sur) Compatibility
SoundSource now has initial compatibility with MacOS 11 (Big Sur).
ACE 11.5 Brings Audio Capture to MacOS 11 (Big Sur)
The Audio Capture Engine (ACE) has been updated to 11.5, offering initial compatibility with MacOS 11 (Big Sur).
Text to Speech Audio Is Again Supported
Audio spoken by the system is once again properly supported by SoundSource, fixing a regression in SoundSource 5.1.0.
When a profile is highlighted in the "Headphone EQ" effect's "Select Profile..." sheet, it will now be previewed live.
Saved profiles in the "Headphone EQ" effect now have the name of the profile provider appended to them, to assist in differentiating between profiles.
Adjustments have been made to prevent SoundSource from appearing on top of software update alerts. As well, the Favorites application selector has been moved to a sheet, to avoid window priority issues.
The "Headphone EQ" effect now sounds better, fixing an issue where bandwidth settings were being incorrectly calculated for the correction curves.
Audio Units once again correctly provide a generic user interface when VoiceOver is active on the system.
It's again possible to add multiple Special Sources to Favorites.
An issue where SoundSource's main window could fail to open properly when clicking the menu bar icon has been resolved.
Updates to the names of Loopback virtual audio devices are now immediately reflected.
The last-open item is correctly remembered between launches in all cases now.
The blue System "accent" color is no longer improperly ignored on MacOS 10.14 (Mojave) and MacOS 10.15 (Catalina).
Backend updates have been made for better compatibility with the new M1 chip-based Macs. Additional updates with full support for these machines will be forthcoming.
Requirements: For (Mac OSX) 10.10 or higher
Home page
-http://www.rogueamoeba.com/soundsource/
Recommend Download Link Hight Speed
|
Please Say Thanks Keep Topic Live