CEO
Staff member
Administrator
Senior Management
Verified Modder
The company was forced to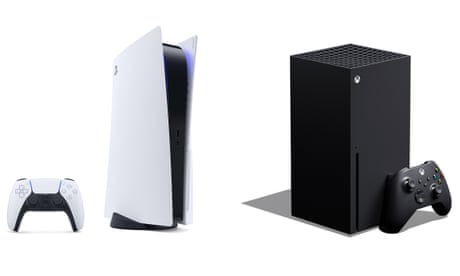 PlayStation 5 v Xbox Series X: how will the rival consoles compare?
On Wednesday Microsoft announced the Xbox Series X pricing on its
Microsoft also announced that members of the Electronic Arts subscription service EA Play will be available at no extra cost to Game Pass subscribers, giving unlimited access to 60 EA titles including Fifa 20 and Titanfall 2.
Sony is yet to reveal the price or release date for its rival PlayStation 5 console, which is also launching this winter and will be similarly available in two iterations – one with a disc drive and one without. Nintendo is also rumoured to be revealing a successor to its Switch console.
Pre-order from next Tuesday (22nd Sept 2020)
Key features: 4K visuals at 60 FPS, 8K and 120 fps support, ray tracing, near-instant load times
Key games: Halo Infinite, Senua's Saga: Hellblade II, full Xbox One backward compatibility
Specs: Custom AMD Zen 2 CPU, 1TB NVMe SSD, 16GB GDDR6 memory, 12 teraflop RDNA 2 GPU
Most games should run at 60 fps at 4K resolution, but other games may be able to go up to 8K resolution or 120 fps. The console will also support ray tracing, as well as 4K UHD Blu-ray discs.
| | |
| --- | --- |
| Price | Unknown to Date |
| Release date | November 2020 |
| Processor | 8-core, 3.8-GHz AMD Zen 2 |
| GPU | 12 teraflop AMD RDNA 2 |
| RAM | 16GB GDDR6 |
| Storage | 1TB custom NVMe SSD |
| Ray Tracing | Yes |
| Maximum resolution | 8K |
| Optical drive | 4K UHD Blu-ray drive |
| External storage | USB 3.2 external HDD support |
| Maximum framerate | 120 frames per second |
| Key features | Quick Resume for suspending multiple games, Dynamic Latency Input, Variable Refresh Rate |
Xbox Series X controller
The Xbox Series X controller
The Xbox Series X will have a slightly upgraded version of the current-gen Xbox Wireless Controller. The new peripheral will feature a dedicated Share button for screenshots and video clips, as well as an improved D-pad, similar to what you'd find on the Xbox Elite Series 2 Controller. Textured dots on the bumpers make them easier to find, while the matte finish on certain buttons makes them more resistant to wear and tear. Like the current Xbox Wireless Controller, the new version will work on Windows PCs as well as mobile phones.
Almost all existing Xbox One accessories will continue to function on the Xbox Series X, so there's no reason to ditch speciality gear that you already own.
Xbox Series X backwards compatibility
Microsoft has confirmed that all existing Xbox One games and accessories will work on Xbox Series X. That includes all of the
There's also the Xbox Series One X's Smart Delivery feature, which Microsoft fully fleshed out in a
Microsoft further explained this feature in a blog post about the "
One ambitious aspect of the Xbox Series X's backwards compatibility is that it may be able to boost old games