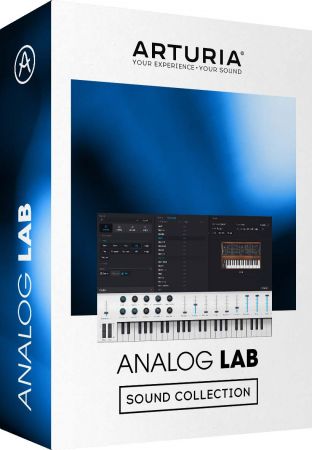 File Size: 2.7 GB
Analog Lab gives you streamlined access to 6500+ of the hottest presets from our award-winning V Collection. Featuring sounds from all 21 faithfully modeled vintage keyboards, combining awe-inspiring sound with exceptional ease of use and awesome features. In addition to studying the feedback from the music community, our developers worked hand-in-hand with professional ergonomists to optimize each aspect of this music production & performance dream instrument. It resulted in an intuitive interface, a beautifully organized category based browsing experience, and natural mapping of the sonic parameters, creating a self-contained sonic encyclopedia of legendary sounds.
​
Keeping it real
You're all about the sound. So is Analog Lab.
Why settle for samples of classic instruments when you can have faithful reproductions of them? In Analog Lab, you're surfing the best sounds from Arturia's award-winning V Collection of 21 classic synths, organs and pianos-all of which are authentic physical models of the originals. There's simply nothing more true to the organic sound quality of yesteryear available anywhere.
All of your favorite go-to sounds at your fingertips
Analog Lab gives you the best of 21 instruments that made music history, all in one convenient place.
Analog synthesizers. Digital synthesizers. Acoustic pianos. Electric pianos. Organs. Strings machines. With the best of 21 vintage instrument reproductions on tap, Analog Lab lets you transcend time and style by arming you with everything from the most iconic sounds of the past to modern sound designs that are cutting edge today. Whether you're composing, recording or performing, over 6500 sounds cover every song, genre, mood and ambience you can think of-no programming required. Use it standalone or with your favorite DAW.
Main Features:
The original hardware/software hybrid synthesizer
Updated with sounds from the V Collection 6
Over 6500 sounds from some of the best sound designers in the industry
Presets are carefully selected from our V Collection 6 (ARP 2600 V, B-3 V, CS-80 V, Farfisa V, Jup-8 V, Matrix-12 V, Mini V, Modular V, Prophet V, Prophet VS, SEM V, Solina V, Stage-73 V, Synclavier V, Piano V2, Vox Continental V, Wurli V, Buchla Easel V, Clavinet V, DX7 V and CMI V)
Updated browser to find your sound quickly: by Type (Bass, Pads, Leads.), by Characteristics (long, bright, dark.), etc.
Multi mode for creating your own layers, splits and adding effects
Automatic mapping of parameters for Arturia keyboards
Parameters can be mapped easily to other MIDI controllers
Standalone or plug-in operation (VST, VST3, AU, AAX)
Full preset editing available for owners of the full versions of our synthesizers (Mini V, Modular V, CS-80V, Wurlitzer V, etc.)
User interface configures automatically to match your Arturia controller
Whats New:
New features
Added a condensed list view to the browser to view the preset list and filters at the same time
New effects: Analog Phaser, Distortion, Twin Amp, Rotary, Analog Delay, Tape Echo, Convolution Reverb
Added effect Link feature for Multi presets
Added Effects presets
Showing the names of the insert effects A and B on the control panel
Both parts are now visible when deplyoying 'more infos'
Delay is now stereo by default
Bug fixes
Fixed UI issues in FL studio
No more issues when opening V Collection stand-alone from 'Macs recent items'
Updated Synclavier and Emulator Timers
All V Collection works on Big Sur
Imported and old playlists loading times have been vastly improved
No More issues when using Luna running Big Sur with V Collection and FX collection instruments/effects
Standalones are now all working with ASIO4ALL & Realtek ASIO
Automations on control panel parameters are now working in FL Studio 20
No more missing samples on Vocoder presets in the Demo playlist
Configure in Live now only requires a single click to map a parameter
Fixed control panel mappings for Jun-6 presets
Preset recommandation of user presets now works correclty
Home pop-up windows now display correctly on retina displays
No more 'Undefined' parameters shown in Bitwig
No more clipping on audio demos
When shuffling preset list liked preset now stay at the same position
HOMEPAGE

Download From Rapidgator
Download From Nitroflare
To Support My Work Buy Premium From My Links.​