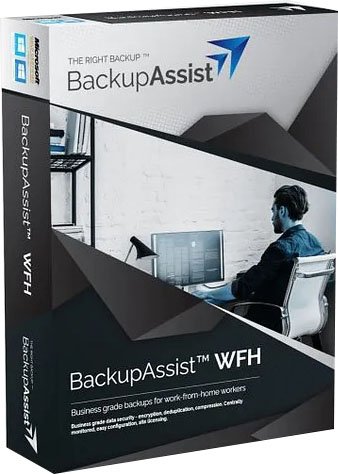 BackupAssist Classic 12.0.1

Languages: English
File Size: 71.51 MB
​
Easy, business grade backup protection for work from home computers. With millions now working from home, valuable company data can go unprotected. Now you can protect WFH computers - system and data - easily with BackupAssist WFH. Featuring easy configuration, central monitoring, and affordable per-user pricing, it's easy to back up your employees' home computers. That's easy cyber-resilience for your business and your employees!
With BackupAssist WFH
- Both data and systems are backed up, mitigating risk of data loss.
- Get running again quickly. Employees do their own file restores and system recovery.
- Company data gets backed up to company storage. Recordkeeping is easy. Security is assured.
- Centralized monitoring, maintenance and protection of data
System and file protection
- Flexible system and file protection
- System image to local USB HDD for fast system recovery
- File backups to cloud
- File backups to local USB HDD
Separate work from personal
- Work data is backed up to work-provided storage.
- Personal data can be excluded from the work backups.
Handles many WFH scenarios
- Company provided laptops.
- Employee owned, work-only computers
- Employee owned, mixed work/personal computers.
Business-grade protection
All cloud backups feature data deduplication, encryption and compression.
BYO storage = complete control
- Cloud storage - use a company Azure or AWS S3 storage account. Satisfy data sovereignty and handling requirements.
- Local USB HDD storage - use inexpensive, company-owned media for fast recovery.
Friendly for I.T. administrators
- Pre-configuration makes it easy for non-technical staff to install and use.
- Central monitoring for easy visibility.
Benefits for your business
- Ensure business continuity
- Ensure legal compliance with data handling
- Data sovereignty - company cloud account (AWS/Azure), choose where to store data
- Data secured with business grade encryption
- Multiple restore points
- Consistency of data protection
Supported Platforms
Microsoft Server Operating Systems
- Microsoft Windows Server 2022 family - Supported from v11.1.0
- Microsoft Windows Server 2019 family - Supported from v10.4.5
- Microsoft Windows Server 2016 family - Supported from v9.5 (not Nano Server)
- Microsoft Windows Server 2012 R2 family
- Microsoft Windows Server 2012 family
Microsoft Client Operating Systems
- Microsoft Windows 11 (64-bit) - Supported from v11.1.0
- Microsoft Windows 10 (64-bit)
- Microsoft Windows 8.1 (64-bit) (Professional, Enterprise) Not supported in v11 or later
Microsoft Application Servers
- Microsoft Exchange Server 2019 - Supported from v10.5*
- Microsoft Exchange Server 2016 - Supported from v9.2
- Microsoft Exchange Server 2013
- Microsoft Exchange Server 2010 Service Pack 3
- Microsoft SQL Server 2017 - Supported from v10.5
- Microsoft SQL Server 2016 - Service Pack 2
- Microsoft SQL Server 2014 - Service Pack 3
- Microsoft SQL Server 2012 - Service Pack 4
Release Notes
BackupAssist 11 - Version History
License Type: BackupAssist WFH - Classic
Home Page