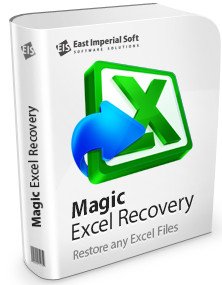 File size: 18 MB
Recover lost and deleted Microsoft Excel and OpenOffice ODS spreadsheets. Magic Excel Recovery shares its data recovery engine with Magic's top tools, offering great value to those who need to recover Excel spreadsheets from all kinds of formatted, corrupted and inaccessible storage media.
​
Recover Excel Spreadsheets
Magic Excel Recovery recovers lost and deleted Excel spreadsheets produced by all versions of Microsoft Excel from 6.0 to Excel 2013, as well as OpenOffice spreadsheets. The comprehensive recovery algorithm can quickly undelete deleted Excel spreadsheets or perform a comprehensive search and recovery on damaged, formatted and inaccessible hard drive and other types of storage media. Combining sophisticated recovery features with simple, easy to use interface, Magic Excel Recovery offers great value for money when you need to recover Excel spreadsheets.
Features and Benefits
Magic Excel Recovery recovers Excel spreadsheets in XLS, XLSX, XLA, XLT, OpenOffice ODS and other formats from all types of storage media. Sharing its data recovery algorithms with Magic's top of the line product, Magic Excel Recovery can reliably recover Excel spreadsheets from problematic storage media. If you don't need recovering other office files such as Word documents or Adobe PDF, Magic Excel Recovery offers great value for money, selling for less than Magic Office Recovery.
Recovers Excel Documents
- Recovers deleted Excel spreadsheets;
- Undeletes Excel files removed from the Recycle Bin or deleted with Shift + Del;
- Recovers spreadsheets saved with Microsoft Excel, OpenOffice and other applications;
- Recovers files in Microsoft Excel 6 - 2013 formats including XLS, XLSX and other formats;
- Recovers OpenOffice spreadsheets;
- Content-aware recovery from formatted and corrupted storage media;
- Recovers spreadsheets from hard drives, SSD drives, USB pen drives, external storage and memory cards;
- Recoverable files are displayed as thumbnail gallery;
- Fully visual pre-recovery preview;
- Filters out irreparable spreadsheets. Each spreadsheet is checked for consistency before being added to the list of recoverable files.
Low-level File Recovery Engine
- Sophisticated file recovery engine shared with Magic's top of the line data recovery product;
- Quick scan allows recovering deleted spreadsheets in seconds;
- Comprehensive analysis employs low-level access and engages content-aware disk scan;
- Proven data recovery engine: tested on a number of corrupted, formatted and inaccessible disks.
Recovering Excel Spreadsheets Made Easy
Magic Excel Recovery can be used at home or in the office. It requires no learning and no specific skills to operate. Just engage a disk scan, select Quick or Comprehensive Analysis, and you'll see a list of recoverable Excel documents in a few moment. The recoverable files are presented as a thumbnail gallery. Click on a spreadsheet to open a full-size preview. The viewer is built-in, and does not require Microsoft Excel to be installed.
Restore Excel Spreadsheets from Formatted, Damaged and Inaccessible Media
Magic Excel Recovery comes with a highly sophisticated data recovery engine borrowed from Magic's top of the line tool. This engine can reliably recover information from all kinds of problematic devices including corrupted and inaccessible memory cards and USB drives, formatted disks and repartitioned hard drives.
Content-Aware Analysis
Content-aware analysis is engaged automatically when you choose to scan the disk in Comprehensive mode. Content-aware scan reads the entire content of the device, looking for characteristic patterns identifying Excel documents. If such a pattern is detected, Magic Excel Recovery will determine the location of a file, validate its integrity and add it to the gallery of recoverable documents if the file is indeed recoverable.
Instant Results with Quick Scan
Deleted an important spreadsheets and want it back now? The Quick Scan mode of Magic Excel Recovery works blazing fast, undeleting spreadsheets faster than it takes you to get them erased!
Supports All Versions of Microsoft Excel
Magic Excel Recovery supports all types of spreadsheets saved by Microsoft Excel 6.0 through 2013. You can recover XLS, XLSX, and a bunch of other formats.
Recovers Excel Spreadsheets from FAT and NTFS Disks
Magic Excel Recovery supports both FAT and NTFS file systems in all variations and revisions. This allows recovering Excel files located on hard drives, USB flash drives and memory cards regardless of the type of a file system they are formatted with.
Recovers OpenOffice Spreadsheets
Magic Excel Recovery is one of the few recovery tools supporting the ODS spreadsheet format by OpenOffice. All versions of OpenOffice and StarOffice are supported.
Supports All Types of Storage Media
Magic Excel Recovery supports all types of storage media. We tested the product with hard drives, SSD's, USB drives, memory cards and certain types of removable drives.
System Requirements
Supporting all 32-bit and 64-bit versions of Windows and all versions and revisions of FAT and NTFS file systems, Magic Data Recovery Pack can recover data from disks, partitions and memory cards formatted with FAT12/16/32, NTFS (NT4) and NTFS5 (2000, XP, Vista, and Windows 7, 8, 10).
Whats New :
Updates: official site does not provide any info about changes in this version.
HOMEPAGE

Download From Rapidgator
Download From Nitroflare
To Support My Work Buy Premium From My Links.​