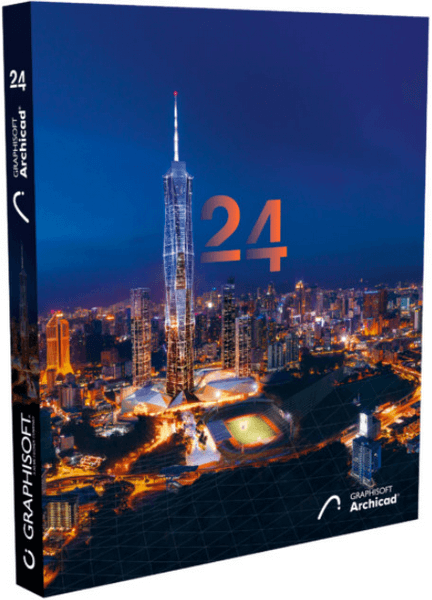 Windows x64 | Languages: English | File Size: 3.19 GB (In Total)
Work smarter, not harder. Design and deliver projects of any size with Archicad's powerful suite of built-in tools and user-friendly interface that make it the most efficient and intuitive BIM software on the market. Featuring out-of-the-box design documentation, one-click publishing, photo-realistic rendering, and best-in-class analysis. Archicad lets you focus on what you do best: design great buildings.
​
Design
Unleash your creativity with the leading building information modeling software developed by architects just like you. Algorithmic design tools and large model support let you do what you do best: design great architecture.
Analyze
Spend your time designing great buildings - not worrying about the quality of your model. By connecting Archicad with the best-in-class analysis tools on the market, you'll identify and solve issues in the earliest stages of the design. All this adds up to a more accurate design that's easier to build and less expensive to operate.
Collaborate
Work with teams around the corner or around the world on projects of any size or complexity. No more waiting thanks to real-time instant messaging. Clash detection and resolution are fast and easy regardless of what other software team members may be using.
Document
Complete 'out of the box' documentation sets, combined with a powerful publishing workflow that complies with local BIM requirements, means you can focus on your designs, not the paperwork.
Visualize
Bring your models to life with Archicad's built-in palette of architectural visualization software. Our VR and rendering tools were designed to help anyone understand and navigate the BIM model. Understanding the model means decisions and changes can be made in the early design phases, saving time, money and aggravation on the building site.
RELEASE NOTES
- DEF-1133 CRASH: Archicad sometimes crashed when deleting a wall.
- DEF-1154 FILE/IFC/IMPORT/CRASH: Archicad crashed while importing an IFC that contained openings that were almost horizontal.
- DEF-1162 PERFORMANCE: The MVO setting "slab eliminate" was not optimized for robust Layer Combination changes.
- DEF-1220 FILE/IFC/EXPORT: Multisegmented Beams didn't explode into Building Element Parts upon IFC export when this option was turned on.
- DEF-1242 CRASH: Archicad crashed when walls with an offset reference line were split.
- DEF-1315 EDIT: The size of text changed after it had been selected, copied, and then zoomed on.
- DEF-1347 FILE/IFC/EXPORT: Archicad was not optimized for large numbers of COBie-related Properties and Classifications.
- DEF-1364 TEAMWORK/EDIT: It was possible to paste new Library Parts into a Teamwork project without having permission to do it.
- DEF-1515 FILE/IFC/IMPORT: IFC elements with invalid faces weren't imported to Archicad.
- DEF-1534 HOTLINK: Embedded hotlink libraries always remained in the Library Manager of the host even after being removed from the hotlink, if skip nested was activated.
- DEF-1586 FILE/DWG/EXPORT: Missing Xref references prevented the export of views as DWG.
- DEF-1614 MODEL: Fill Cut Surfaces with: Uniform surface was displayed incorrectly in Sections and Elevations.
- DEF-1623 MODEL: Trace and Reference drawing disappeared when zooming in, only reappearing when zooming out.
- DEF-1651 MODEL: Classification search showed Classification system instead of the desired entry if the window was too small.
- DEF-1657 EDIT: The adjust command didn't always shorten the shorter part of a polyline.
- DEF-1696 EDIT: The view settings did not save the change in Absolute Display Limit.
- DEF-1779 IFC/FILE/EXPORT: The Contact Category COBie property wasn't mapped to the corresponding Archicad info field correctly.
- DEF-1925 FILE/OPEN: Empty Cookies folder might be created on the root of the opened project's drive.
- DEF-1936 MODEL: Layers changed to another combination when using the magic wand while Trace & Reference was turned on.
- DEF-1948 PERFORMANCE: The Master layout was significantly slower in v23 than v21.
- DEF-1958 DOCUMENT: The nominal height and width for windows in labels didn't change after it was modified in the calculations and rules within the Project Preferences.
- DEF-1977 CRASH: Archicad crashed because of a missing renovation filter which was active in a view.
- DEF-1983 FILE/3DM/CRASH: Archicad, instead of skipping faulty geometry in Rhino files, crashed during import.
- DEF-2001 FILE/OPEN/DOCUMENT: On macOS mount points with long names sometimes resulted in missing drawings or hotlinks.
- DEF-2022 FILE/XREF: A warning dialog appeared when trying to attach a second Xref browsed from mounted network locations.
- DEF-2028 FREEZE: The Magic Wand was not optimized for extremely object dense views involving polylines.
- DEF-2034 FREEZE: Archicad took a long time to open a layout if it had many attributes for fills and lines.
- DEF-2075 DOCUMENT: Show Headline in Project Indexes showed wrong data for Graphic Override Combinations.
- DEF-2085 FILE/IFC/IMPORT: The imported model could be locked on the Archicad layer.
- DEF-2089 MODEL: Railing default settings caused different floor plan display in some localized templates.
- DEF-2096 FILE/OPEN: Archicad 23 projects that contained walls with an invalid starting point couldn't be opened with Archicad 24.
- DEF-2105 CRASH: A double click on a layout in the navigator sometimes crashed Archicad.
- DEF-2113 PERFORMANCE: The markup tool used with curtain walls slowed down the navigation in the project.
- DEF-2218 EDIT: Archicad - Python connection did not work with Python 3.9.0.
- DEF-2305 FREEZE: Archicad became unresponsive during export of projects with several thousand attributes.
- DEF-2321 MODEL/CRASH: Model compare failed on migrated files.
- DEF-2324 PERFORMANCE: New features in Archicad 24 layouts were not optimized for zooming or panning.
- DEF-2334 FILE/OPEN/CRASH: Archicad crashed due to duplicated views in cloned folders.
- DEF-2357 FILE/OPEN: Column and beam related dimensions could disappear from floor plan on open.
- DEF-2366 PERFORMANCE: Opening a door list in Archicad 24 took significantly longer than opening the same list in Archicad 21.
- DEF-2405 CRASH: Archicad crashed when using Open & Repair on a file from a newer version.
- DEF-2452 FILE/IFC/CRASH: Archicad did not skip faulty IFC property data, but instead crashed.
- DEF-258 PERFORMANCE: In 3D Archicad was less optimized for repetitive geometries than with earlier versions.
- DEF-2664 DOCUMENT: Text and autotext in master layouts were missing from the layouts and drawings after publishing.
- DEF-2725 FILE/OPEN/SAVE/PERFORMANCE: On macOS the length of the recent file list prevented a quick open or save.
- DEF-2771 TEAMWORK/CRASH: Archicad crashed when the file was shared in Archicad 24 build 3008 and opened in build 4000.
- DEF-3016 USER INTERFACE: Items from drop-down list could not be selected in macOS Big Sur.
- DEF-337 BIMX: Web viewer displayed error 500 because of an unsupported character from a pen set originating from Archicad.
- DEF-438 CRASH: Modification of hatches in vector images was not handled robustly.
- DEF-647 FILE/DWG/IMPORT: Archicad failed to assign correct pens when importing DWG files with too many colors.
- DEF-666 HOTLINK/EDIT: Locking hotlink modules did not work.
- DEF-962 FILE/DWG/EXPORT: Grid elements sometimes did not display correctly when exported to DWG as Blocks.
- DEF-3521 MODEL: Windows with Custom Corner flickered when placing on the opposite side of the wall's reference line.
- DEF-2945 TEAMWORK/DOCUMENT: Previously published PMK files on BIMcloud could not be updated after the file was re-published
Minimum Hardware Requirements:
- 64-bit Intel or AMD multi-core processor
- 5+ GB of free space
- OpenGL 3.3 compatible graphics card
- Windows 10 64-bit
HOMEPAGE