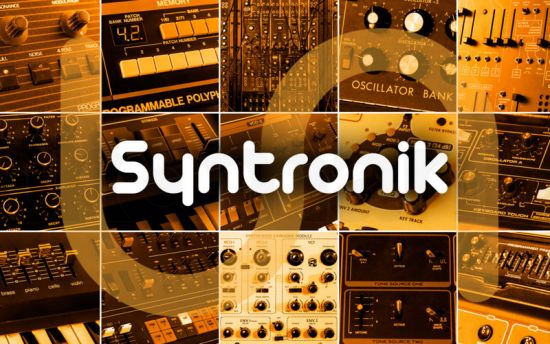 File size: 706 MB
Syntronik is a cutting-edge virtual synthesizer that raises the bar in sound quality and flexibility thanks to the most advanced sampling techniques combined with a new hybrid sample and modeling synthesis engine. Syntronik includes 17 amazing instruments, available as a collection or separately, with over 2,000 preset sounds covering a wide selection from 38 of the most iconic to ultra-rare and painstakingly multi-sampled vintage synthesizers. Syntronik's synthesis engine goes well beyond traditional sampling thanks to a brand new analog modeled filter section created with the utmost expertise from IK, the pioneer in virtual circuit modeling.
​
This is coupled with exclusive DRIFT™ technology to accurately reproduce the behavior of oscillators from real hardware synths. All of this combined with an effects section that is unrivaled in the world of virtual instruments along with advanced features like 4-part Multis, splits and arpeggiators make Syntronik the ultimate source of inspiration with the widest palette of synthesizer sounds ranging from exact reproductions of the originals to sounds never heard before that will stand out from the crowd in productions covering any genre and style.
Capturing Synthesizer DNA
When it comes to accurately reproducing the sound of timeless machines like Moog, Oberheim, Sequential Circuits, ARP, Roland and Yamaha vintage synthesizers, sampling their sound-generating oscillators is the only way to ensure truly authentic sounds. We selected some of the most sought after synthesizers, sourced only the best instruments from private collections, and painstakingly sampled them. Sound designers worked hand in hand with software developers to take full advantage of this "synthesizer DNA," with the goal of offering a highly flexible instrument that would maintain the exact sonic character of the originals while extending their creative potential even further. We have captured multiple round robins of single oscillators, oscillator combinations (including sync and FM sweeps) and after more than 70,000 samples and 50GB later, Syntronik is ready to set a new standard in the world of virtual instruments.
Hybrid Synthesis Architecture
scheme2driftoscil
In order to achieve highly flexible sound manipulation while maintaining the same exact sound of the original hardware, we evolved our synth engine to include circuit-level filter models of 4 of the best sounding machines of all time: Moog transistor ladder, (found in the Minimoog and Modular Moog), Roland's IR3109 chip (found in the Jupiter-8 and Juno-60), the famous Curtis CEM3320 chip (found in the Prophet-5 and Oberheim OB-Xa) and the Oberheim SEM state variable filter.
This hybrid architecture allows for a pristine reproduction of the most critical section of every synthesizer. Plus, every filter is selectable within each included synthesizer, enabling users to create their own combinations by mixing or matching at will, like using a Moog filter on an Oberheim oscillator to produce entirely new original sounds that stand out from the crowd! Syntronik also provides powerful digital filters like Formant and Phase filters that can take the analog source oscillators into new sonic dimensions.
Whats New
Updates: official site does not provide any info about changes in this version.
HOMEPAGE

Download From Rapidgator
Download From Nitroflare
To Support My Work Buy Premium From My Links.​