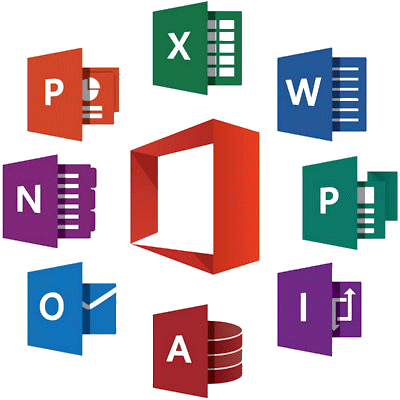 Microsoft Office 2016-2021 16.0.15128.20264 Build 2204 AIO x86/x64 June 2022 | x86/x64 | Language: English, Russian | File Size : 4.09 GB
Microsoft Office 2021 is a new version of the Microsoft Office suite that seeks to combine the aesthetic changes and interface improvements of the 2016 and 2019 versions with the online capabilities of the Office 365 service. In addition to the new design, made in the style of Windows 11, The package received several important innovations in terms of functionality.
In particular, integration with cloud services has been deepened, which allegedly made it easier to work with documents on different devices, including simultaneous editing of one file by several users. In addition, when sending large attachments in emails, Outlook can now automatically upload them to OneDrive storage. As ancillary tools in Microsoft Office 2021so-called "smart" applications (Smart Applications) appeared, such as the search for commands to perform certain actions Tell Me and the incoming message sorter Clutter, based on machine learning technologies.
Why did I release build 2204 when I had released build 2205 a couple of months earlier, you ask? The fact is that I managed to fit this build to the size of DVD5 with exactly the same set of programs, languages and bit depths. It was this assembly, which fits on a regular DVD-blank, that many users asked me. Well, I had time and opportunity to meet them. Therefore, I present this compact assembly to your judgment.
Package content
This package includes the following products in Russian and English for 32-bit (x86) and 64-bit (x64) kernels
Access 2016-2021
Excel 2016-2021
OneDrive 2016-2021
OneDrive for business 2016-2021
OneNote 2016-2021
Outlook 2016-2021
PowerPoint 2016-2021
Project Professional 2016-2021
Project Standard 2016-2021
Publisher 2016-2021
Skype for business 2016-2021
Team 2021
Visio Professional 2016-2021
Visio Standard 2016-2021
Word 2016-2021
Proofing Tools
Installation and treatment procedure
Instruction for installation and treatment
1. Run the installation with the OInstall.exe file .
2.In the window that opens, on the "Main Window" tab, select whether you want to install Office 2016 or Office 2019-2021. Below for Office 2016, select the ProPlus package, for Office 2019 - the ProPlus 2019 package, for Office 2021 - the ProPlus 2021 package (with or without the Volume prefix - it doesn't matter). A little lower, in the left column of products available for installation, select the ones you want to install. Additionally, in the right column, you can select Project and Visio in the Standard or Pro modification. Also, it is up to you to choose which bit depth to install the software package and in which language. Channel set to Current (Retail/RTM). Check again if everything is correct and click "Install Office" (Install Office). This initiates the start of the package installation.
3.At the end of the installation, you will again see the window where you set the installation parameters. Click the Utilities and Settings tab. If you want the activation to be "eternal", then check the box next to "Office reactivation" (Office reactivation task). If your computer constantly or often enough has access to the Internet, then it is recommended to check the box next to Online KMS. In this case, the activator body will not be installed on the computer, which ensures that there are no problems with antiviruses. If you want the activation process not to go beyond your computer, then you should not check the box next to Online KMS.
four.Pay attention to the block of buttons with a list of programs in the right part of the window. To activate, you need to launch at least one of the applications you have installed once. To do this, use any active button. After the application starts, just close it. Click on the Office RETAIL => VL button (even if you installed the Volume edition, this will remove unnecessary telemetry). Wait until the end of the procedure, then click the "Activate Office" button (Activate Office). At the end of the activation procedure, close the installer window.
5. Enjoy the installed and activated version of the selected set of programs!
System requirements
• Windows 11/10, Windows Server 2019 ; Windows 11 / 10 / 8.1, Windows Server 2019 / 2016 / 2012 R2
• 1.6 GHz dual-core processor. A minimum of 2 GHz is recommended for Skype for Business
• 4 GB RAM for 64-bit; 2 GB RAM for 32-bit
• 4 GB free hard disk space
• 1280 x 768 resolution (32-bit OS requires hardware acceleration to support 4K resolution and above)
• Hardware acceleration requires DirectX 9 or later with WDDM 2.0 or later for Windows 10 (or WDDM 1.3 or later for Windows 10 Fall Creators Update). Skype for Business requires DirectX 9 or later, 128MB VRAM, and 32bpp color depth
• Latest version of Microsoft Edge, Internet Explorer, Safari, Chrome, or Firefox
• Some components may also require .NET 3.5 or 4.6 to be installed
• An Internet connection is required to use the Internet features.
What's New
Homepage
Download Links
Rapidgator