iPhone Gaming
iPhone Gaming
We got some hot news tips from the boys over at Riverman Media on one new and one old game of theirs. First off,
MUL.MASH.TAB.BA.GAL.GAL
[
MUL.MASH
, check out
Pong
which explores what's possible inside of that basic concept to its fullest.
This update adds a new "side quest" which features new enemies, backgrounds, music, and its own leaderboard. It doesn't matter if you've beaten the original game or not, everyone can enjoy this new content from the title screen. New paddles are also included along with some quality of life improvements like tweaks to how the game handles iOS multitasking and the ability to restart from the pause menu.
Meanwhile, deep inside the dusty archives of the TouchArcade Forums you'll find
Cash Cow
. Released all the way back in 2009,
Cash Cow
is a matching game that has you matching based on logical increments of pocket change.
matching game
which now days likely would be totally ignored. My favorite posts from the thread are those asking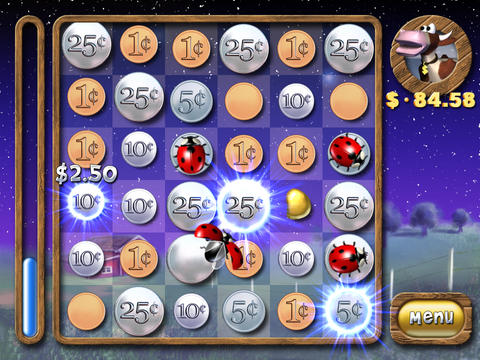 Anyway, Riverman Media wrestled it away from Chillingoand is on the verge of re-releasing a "fully remastered" version of the game which works on all modern devices. According to Riverman, "It is widescreen, universal, retina, has all new backgrounds, includes game center leaderboards for its hi-score modes, and runs at a silky smooth 60fps." I'm super curious to see how it does, if nothing else, it's ultra-rad seeing developers continue to support games like this, which is an effort we should all support as iOS gamers.