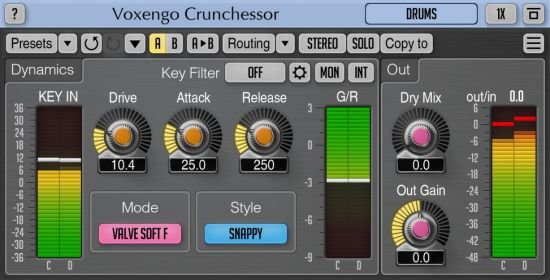 TeamCubeadooby | x64: VST3, VST2, AAX | x86: VST2 (AAX, VST3 not exist) | 13.5 MB
Crunchessor is a track compressor AAX, AudioUnit and VST plugin for professional sound and music production applications. One of its main advantages is the ease of tuning, which at the same time instantly delivers an excellent sonic performance. Another remarkable feature of Crunchessor is its valve-type processing, which is applied in parallel to compression. This makes Crunchessor an ideal choice for musicians and producers who are fond of analog compression sound and its warmness.
​
Beside this, Crunchessor offers you a selection of compression coloration styles--by itself a pretty unique feature for a compressor. By choosing an appropriate coloration style, you can add the character most suitable for the sound material you are working with. As an option, you can disable both coloration and valve warming processing to get a neutral and clean compression sound.
Being a multi-purpose compressor, Crunchessor can be used for any kind of sound material: drums, vocals, bass, guitars, synth sounds, etc. Crunchessor can be suitable both for single track and whole mix processing. Crunchessor also accepts external side-chain source signals and allows you to filter key signal sources before they are used for compression.
FEATURES:
Easy compression tuning
Valve warmness
Coloration styles
External side-chaining
Key signal filtering
Stereo and multi-channel processing
Internal channel routing
Channel grouping
Mid/side processing
Up to 8x oversampling
64-bit floating point processing
Preset manager
Undo/redo history
A/B comparisons
Contextual hint messages
All sample rates support
Zero processing latency
User interface color schemes
Resizable user interface
Retina and HighDPI support
Whats New :
Version 2.18, 30-nov-2022
* Added the "Auto Oversampling on Render" plug-in setting which forces "Auto" oversampling in all instances of this plug-in on render/bounce.
* Added the "Spectrum, meter border" palette modifier, and visual features. The "Flat Panels" global settings is now a part of color scheme's visual features. Updated palettes.
* Made a small speed-up of GUI loading and drawing.
* Fixed an issue with popup-menus not functioning in Logic Pro on Apple M1 native.
* Implemented "Portable Setups" support (portable settings and authorization storage), read more in the Primary User Guide.
HOMEPAGE

Download From Rapidgator
Download From Nitroflare
To Support My Work Buy Premium From My Links.​