Windows 10 Pro Version 2004 Build 19041.264 incl. Office 2019 ProPlus en-US - May 2020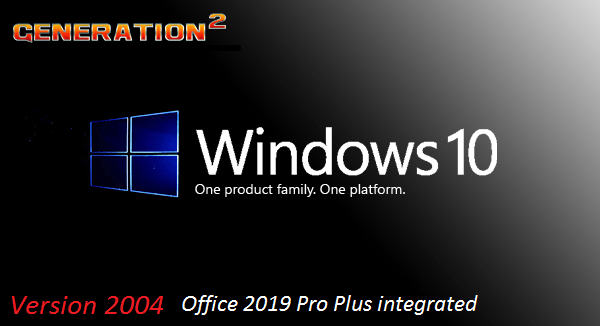 Windows 10 Pro Version 2004 Build 19041.264 incl. Office 2019 ProPlus en-US - May 2020
English US | Windows x64 | File Size: 4.9 GB
​
The Windows 10 May 2020 Update (also known as version 2004 and codenamed "20H1") is the ninth major update to Windows 10. The first preview was released to Insiders who opted in to the exclusive Skip Ahead ring on February 14, 2019. Microsoft will released Windows 10 May 2020 Update 20H1 2004.10.0.19041.207 on all pc's through Windows Update for Upgrade your Machines the new official microsoft iso's msdn / visual will Released The May 2020.
General Info:
File: W10X64.PRO.OFF19.ENU.MAY2020.iso
Size: 4,96GB
Format: Bootable ISO
CRC32: f83e2f04
MD5 : b1916edb855d7dce0da31ddbbccc933a
SHA-1: 700648b708c3014f104667b3b88200e237e838c4
What's New:
Office 2019 ProPlus VL 64bit
CumulativeUpdate: KB4556803 (OS Builds 19041.264)
-We have fixed a performance issue in Windows Mixed Reality (WMR) that prevents it from working correctly for many users.
-We fixed an issue that prevents cleaning tools, such as Disk Cleanup, from removing previously installed updates.
-We have updated the 2020 start date for daylight saving time (DST) in the Kingdom of Morocco. For more information, see KB4557900.
-Security updates to Internet Explorer, the Microsoft Scripting Engine, Windows App Platform and Frameworks, Microsoft Graphics Component, Windows Input and Composition, Windows Media, Windows Shell, Microsoft Xbox, Microsoft Edge, Windows Fundamentals, Windows Cryptography, Windows Authentication, Windows Kernel, Windows Virtualization, Windows Update Stack, Windows Core Networking, Internet Information Services, Windows Network Security and Containers, Windows Active Directory, Windows Server, and the Microsoft JET Database Engine.
Editions Included:
Windows 10 Pro
Office 2019 ProPlus
Activators: HWID and Online KMS
SCREENSHOTS

HOMEPAGE
DOWNLOAD LINKS :​