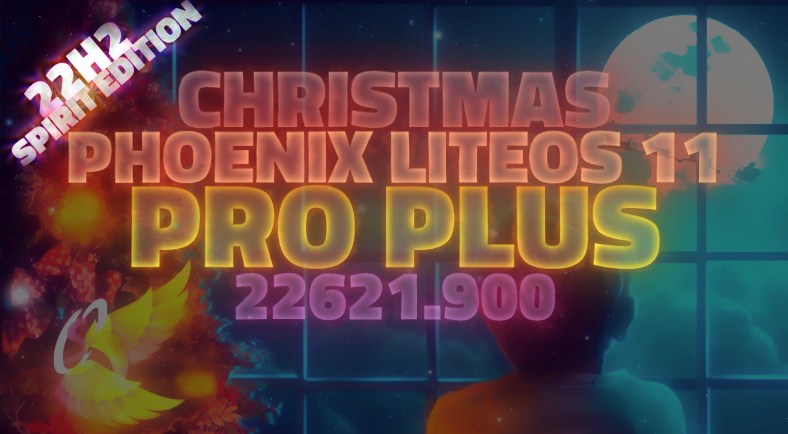 Windows 11 Pro 22H2 Build 22621.900 Phoenix Liteos 11 Pro+ Christmas Spirit Edition (x64) En-US Pre-Activated | Size: 2.54 GB
No TPM Required | English | PreActivated | 64bit | December 2022
​
DESIGNED TO BREATHE NEW LIFE INTO YOUR PC
- 4GB Installed Size!
- File Explorer Tabs Enabled!
- Optional Windows Defender!
- Full Featured, Updatable Build!
- Includes Optional System Transparency!
- Custom Cursors, Themes, Effects, Wallpapers, and MUCH MORE!
- Full Support for Additional Language Packs, Speech, Voice, etc.!
- Extreme Performance for your Apps and Games!
- Improved Stability and Performance!
- Bypasses TPM, Secure Boot, RAM, CPU, and Storage Checks!
- Bypasses Microsoft's Forced Account Creation during Setup / Installation!
- Credit to @FBConan - @phoenixliteos
Multi Build ISO With Selective Defender During Setup:
- Defender version
- Non-Defender version
Features:
- Removed Features Include - Cortana, Smart Screen, Edge, Some UWP Apps.
- Disabled Features Include - Defender (Optional), Virtual Memory, Widgets, Windows Ink Workspace, Error Reporting, UAC, Ads, Telemetry, Hibernation, Power Throttling, Logging, and Download Blocking.
- Performance Prioritized! - This build has been designed for Maximum Performance, Responsiveness, and Resource Savings.
- I Highly Recommend you download and install DX9 and VC++ Runtimes
- For AMD Ryzen Powered PC's, please download the latest Chipset Drivers
- Enabling Virtual Memory will help stop Apps from crashing, and improve stability. Run the included Virtual Memory Enabler App in the 'Extras' Folder to enable!
What's New:
- November 29, 2022-KB5020044 (OS Build 22621.900) Preview
System Requirements:
- Processor: 2 gigahertz (GHz) or faster.
- RAM: 2 gigabyte (GB).
- Free space on hard disk: 25 gigabytes (GB).
- Graphics card: DirectX 9 graphics device or a newer version.
- Additional requirements to use certain features.
- To use touch you need a tablet or monitor that supports multitouch.
- To access the Windows store to download and run apps, you need an active Internet connection and a screen resolution of at least 1024 x 768 pixels
Installation Method:
- Use Rufus ONLY to write the ISO to a USB Drive.
- Boot from the USB Drive, and Perform a Clean Installation to your desired partition.
- Your PC Will Reboot Once, Shortly After Installation Completes.
Languages: English-US - Added any language after installation!
FREE DOWNLOAD LINKS:​